DORIS DAY MD SKINCARE
Pore Refining Pumpkin Mask
Regular price
Sale price
$55
Unit price
per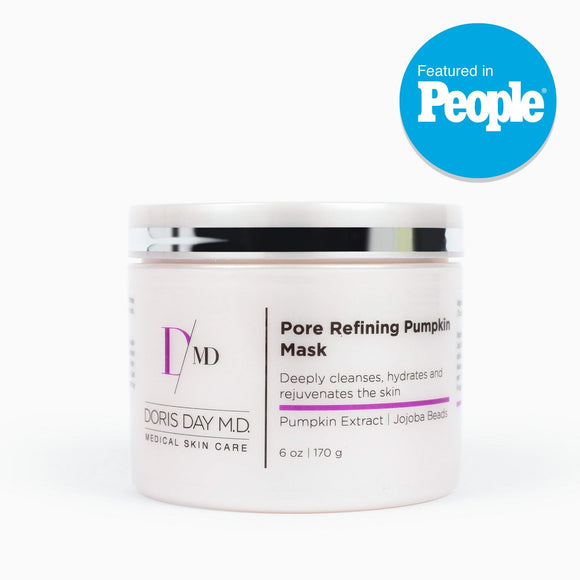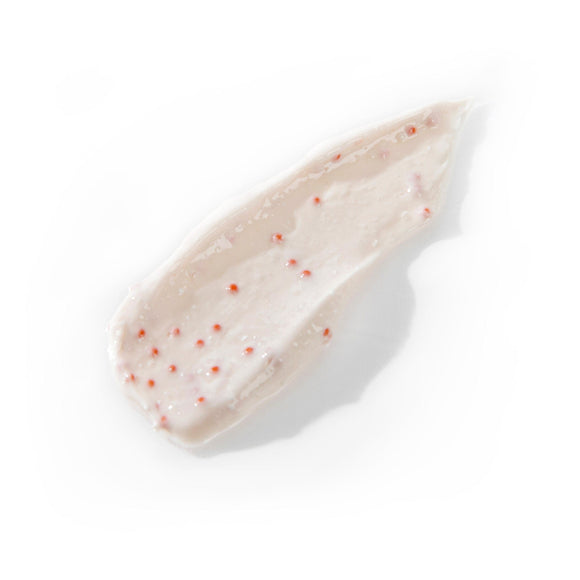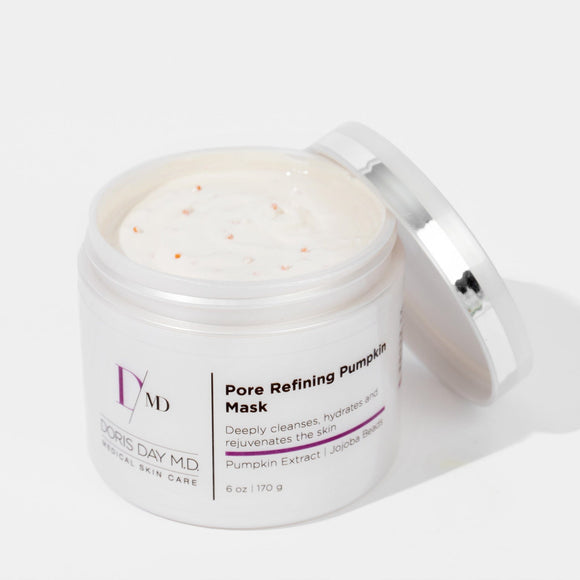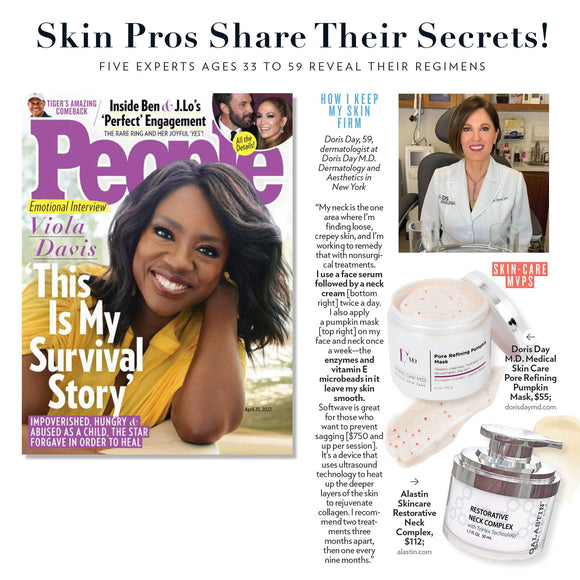 DORIS DAY MD SKINCARE
Pore Refining Pumpkin Mask
Regular price
Sale price
$55
Unit price
per
Deeply Cleanses, Hydrates, and Rejuvenates the Skin
Nourishing, self-warming, pore cleansing mask that combines minerals, enzymes and vitamins to reduce pore size, cleanse, hydrate and rejuvenate skin.

Non-comedogenic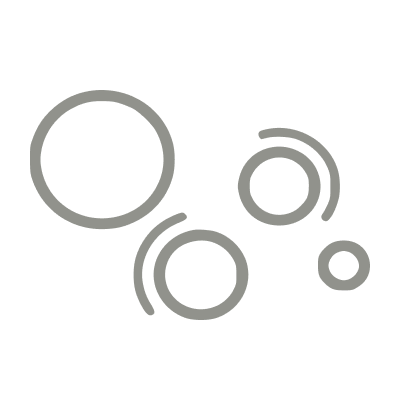 Pore-refining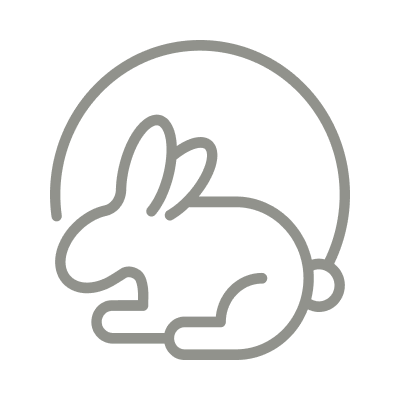 Cruelty Free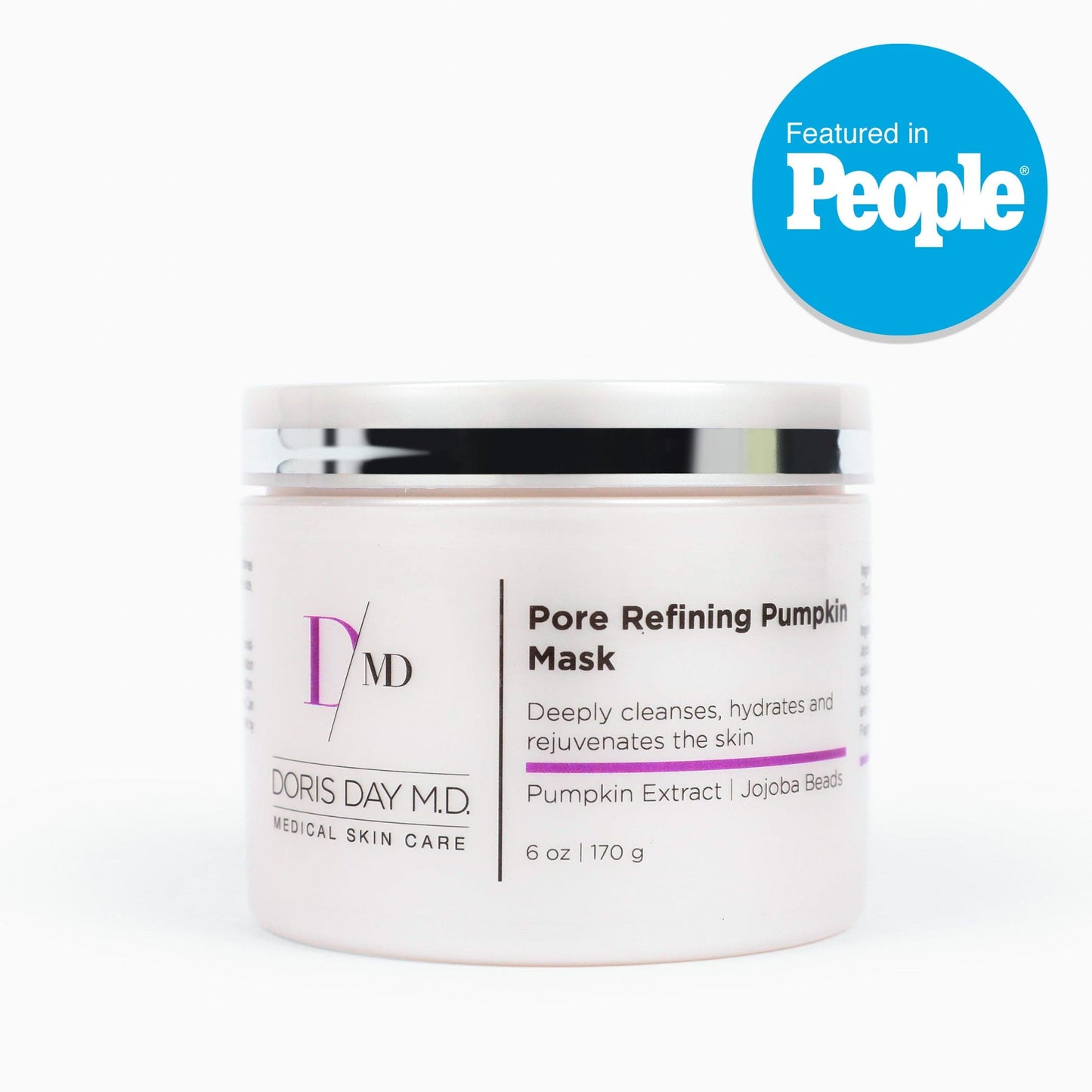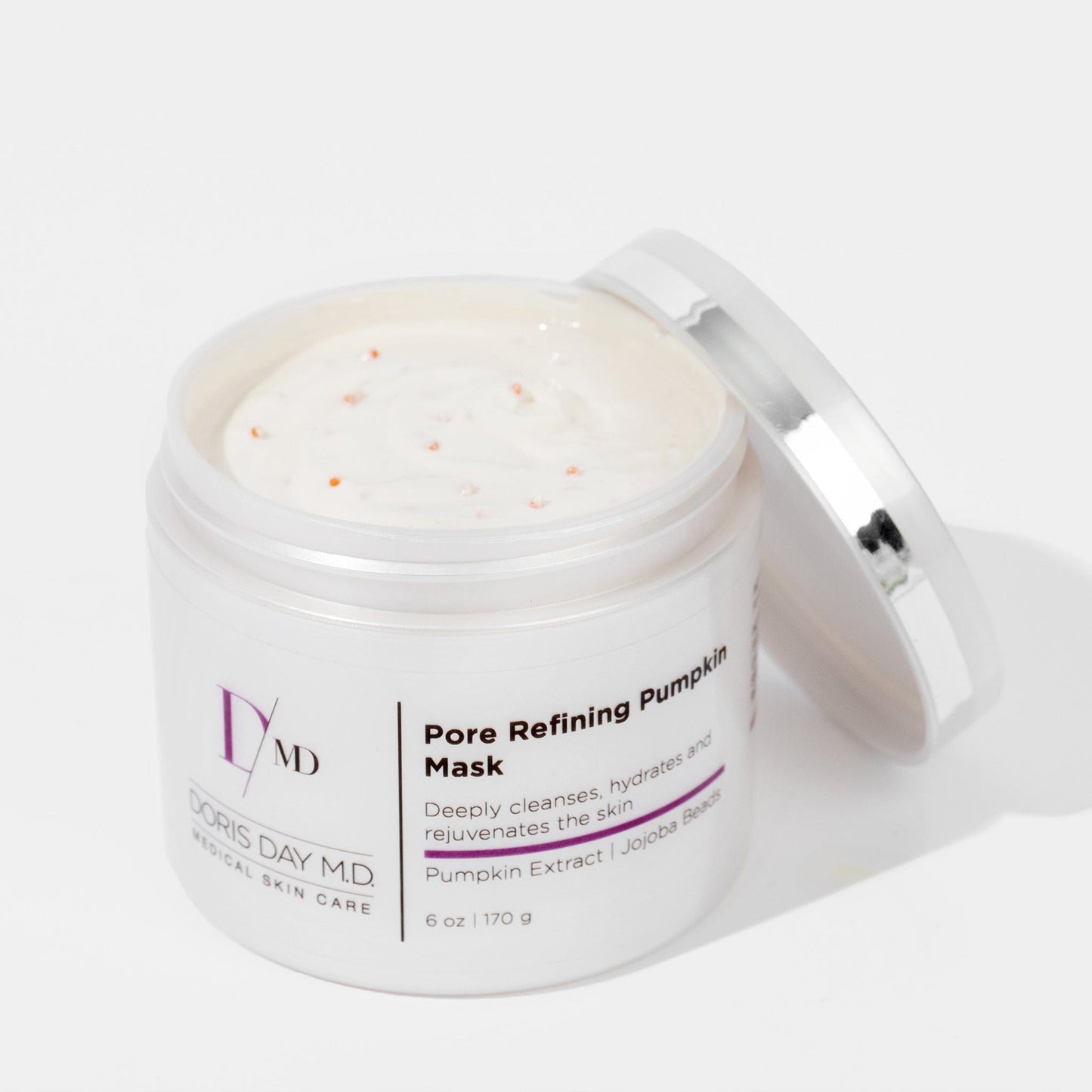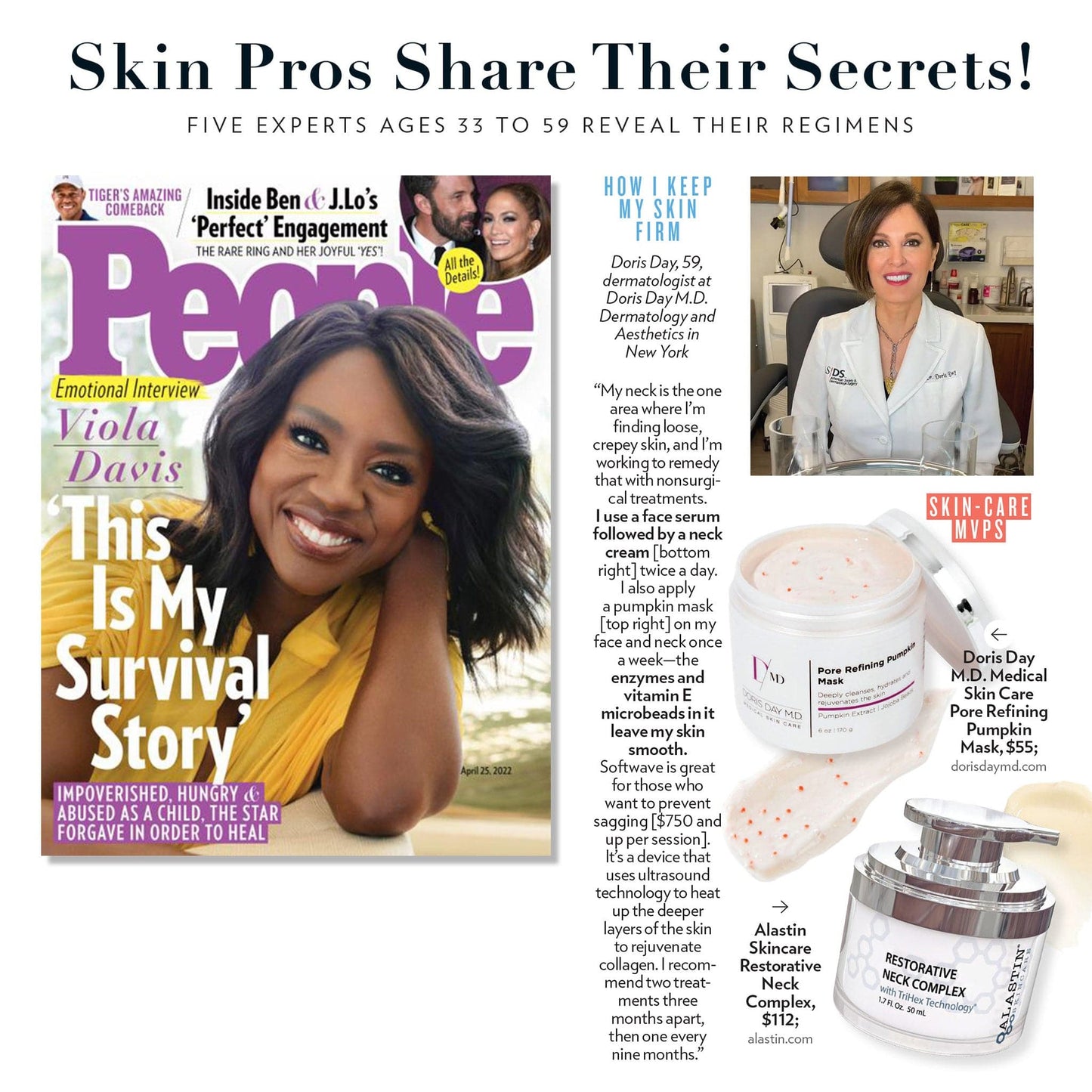 Behind the Science
Why Dr. Day Loves It
"I know this will become one of your favorite products—you'll see the effects quickly and your skin will feel and look radiant, refined, and deeply hydrated."
Why it's Special
This mild formula contains Kaolin to absorb dirt and excess oils, Pumpkin Enzymes to increase cellular regeneration and refine pore size, and time-released Vitamin E micro-beads that activate upon contact with the skin to replenish moisture. Gentle formula complements anti-aging, hyperpigmentation and acne regimens and leaves skin hydrated, refined and radiant.
What to Expect
This product is great for anyone looking for a skin brightening mask that exfoliates dry, dull skin and minimize the appearance of enlarged pores to reveal hydrated, refined, radiant skin. Its ingredients help increase cellular regeneration and refine pore size, leaving skin hydrated, refined and radiant.
How to Use
Apply generous amount to clean, dry skin, avoiding eye area. Massage into skin until warming sensation dissipates. Wet hands and repeat massaging action. Rinse thoroughly with warm water. Avoid eye area. Pore treatment mask can be used two to three times a week.
Ingredients
JOJOBA BEADS - Create a wax-like texture to maximize skin hydration.
PUMPKIN EXTRACT - Refines pore size and smooths the skin's surface by increasing cellular regeneration.
SILVER - Elemental Silver is inert non-allergenic and works as a pure mineral skin conditioner helping relieve chapped scaly skin to restore smooth healthy skin.
VITAMIN E - Antioxidant protection against pollution and free radicals.
Supporting Ingredients: PEG-8, Kaolin, Glyceryl Stearate, Glycerin, Jojoba Esters, Steareth-21, Titanium Dioxide, Hydroxypropylcellulose, Cucurbita Pepo (Pumpkin) Fruit Extract, Tocopheryl Acetate, Colloidal Silver, PPG-15 Stearyl Ether, Ethylhexylglycerin, Talc, Water/Aqua/Eau, Red 30, Iron Oxides, Fragrance(Parfum), Phenoxyethanol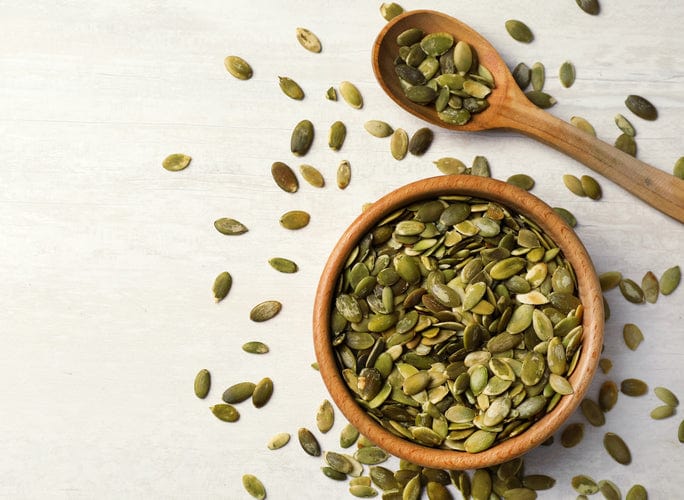 Questions? We've Got Answers.
How often should this be used?
It can be used two to three times per week as needed for improved softness and hydration of your skin.
What is Kaolin?
Kaolin is a clay mineral. It absorbs dirt and excess oils.
Can this be used on mature skin?
Yes, this mask is great to use on all skin types.
Are the jojoba beads in the mask abrasive?
Jojoba beads are very gentle, but still provide an effective exfoliation for the skin. They are round in shape and don't have sharp edges like nutshells.
Beautiful on the skin
I love love this mask bought it off TVSN Australia but can no longer buy it.
My skin feel so soft hydrated firmer.
Please Dr Day come back to TVSN
A Feel Good product
I tried the Pumpkin Mask and loved how it felt on my skin.
It was slightly warming and left my face feeling relaxed and smooth, feeling as if I just left a spa facial. I felt so good!
Excellent product!
Dr. Day's Pumpkin Pore Refining Mask is helping me fight my current breakout by drawing out excess oil and impurities in my skin. I've been using this creamy mask for six weeks now and I definitely see a difference. It leaves my skin matte, hydrated and bright. I do love the warming sensation and the delicate pumpkin scent. It's a great mask that I will repurchase!
Pumpkin Mask
Love, love this pumpkin mask. So smooth on skin, easy to apply. After use my skin feels firmer and looks glowy, not to mention it smells wonderful.
A "Granny"
I love the pumpkin mask! My face feels so clean, so refreshed, so soft! Thank you!
Get Personalized Advice from Dr. Doris Day
We offer a full array of medical and non-surgical aesthetic treatments for face and body.
Contact Us