DORIS DAY MD SKINCARE
Light & Bright Brightening Pads
Regular price
Sale price
$215
Unit price
per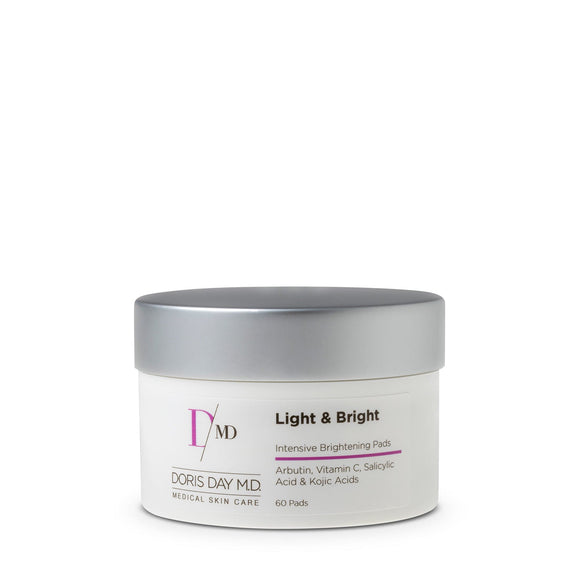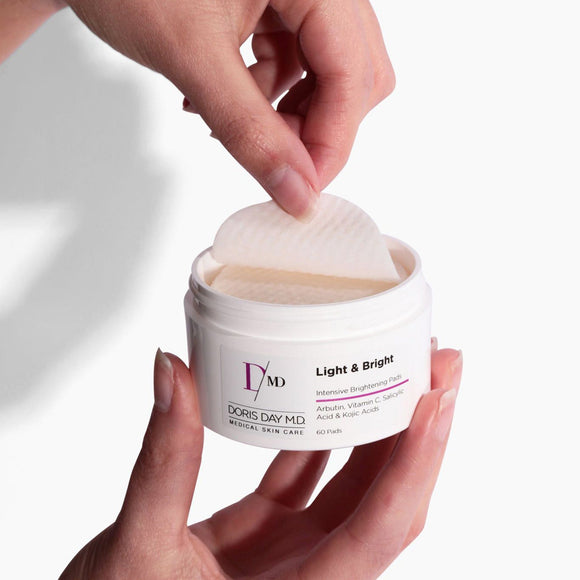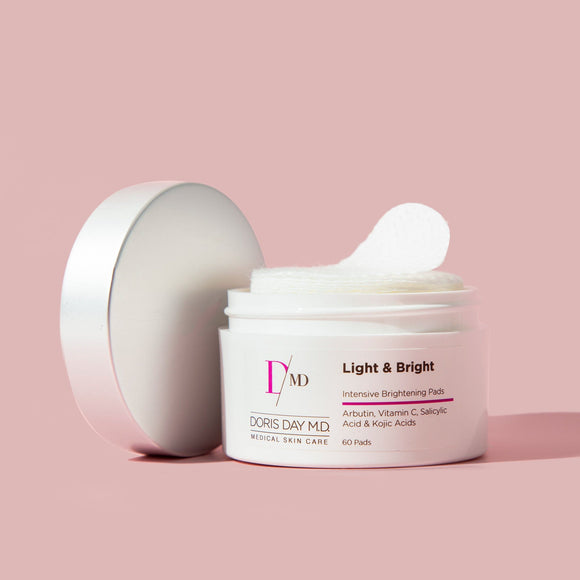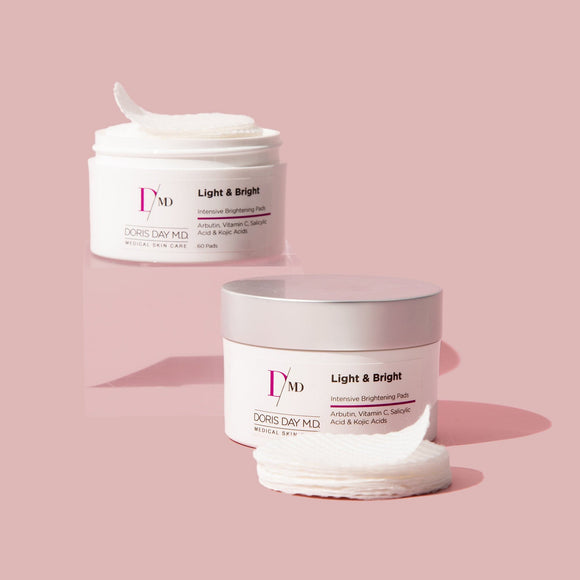 DORIS DAY MD SKINCARE
Light & Bright Brightening Pads
Regular price
Sale price
$215
Unit price
per
Intensive Brightening pads
The perfect dose of lightening and brightening in the power of an exfoliating pad. Each soft-woven pad exfoliates and cleanses away oil, debris, and hyperpigmented skin layers. This helps clear the way for superior skin brightening and radiance. These pads are formulated with a combination of Hydroquinone-free skin brighteners, exfoliants, and natural antioxidants, which supplement the actions of skin lightening medications. Overall, this product provides patients with a Hydroquinone-free maintenance agent.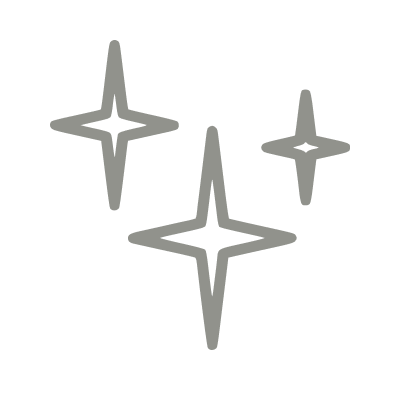 Brightening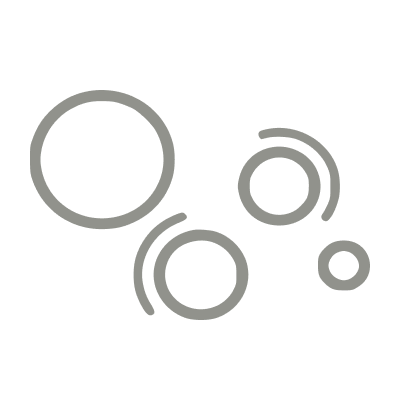 Pore-refining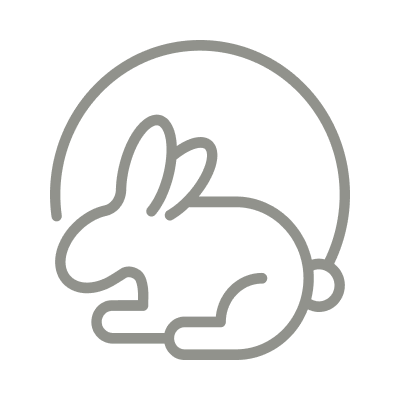 Cruelty Free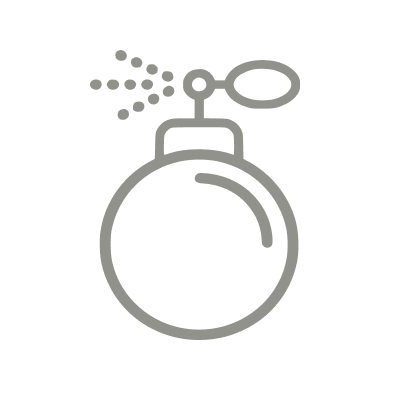 Fragrance Free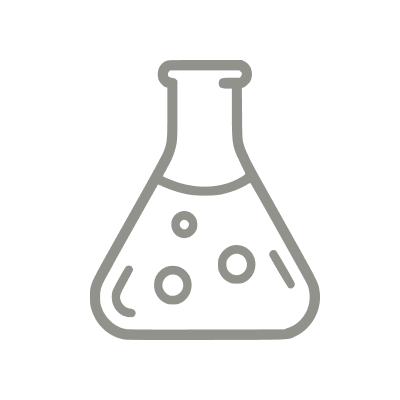 Preservative Free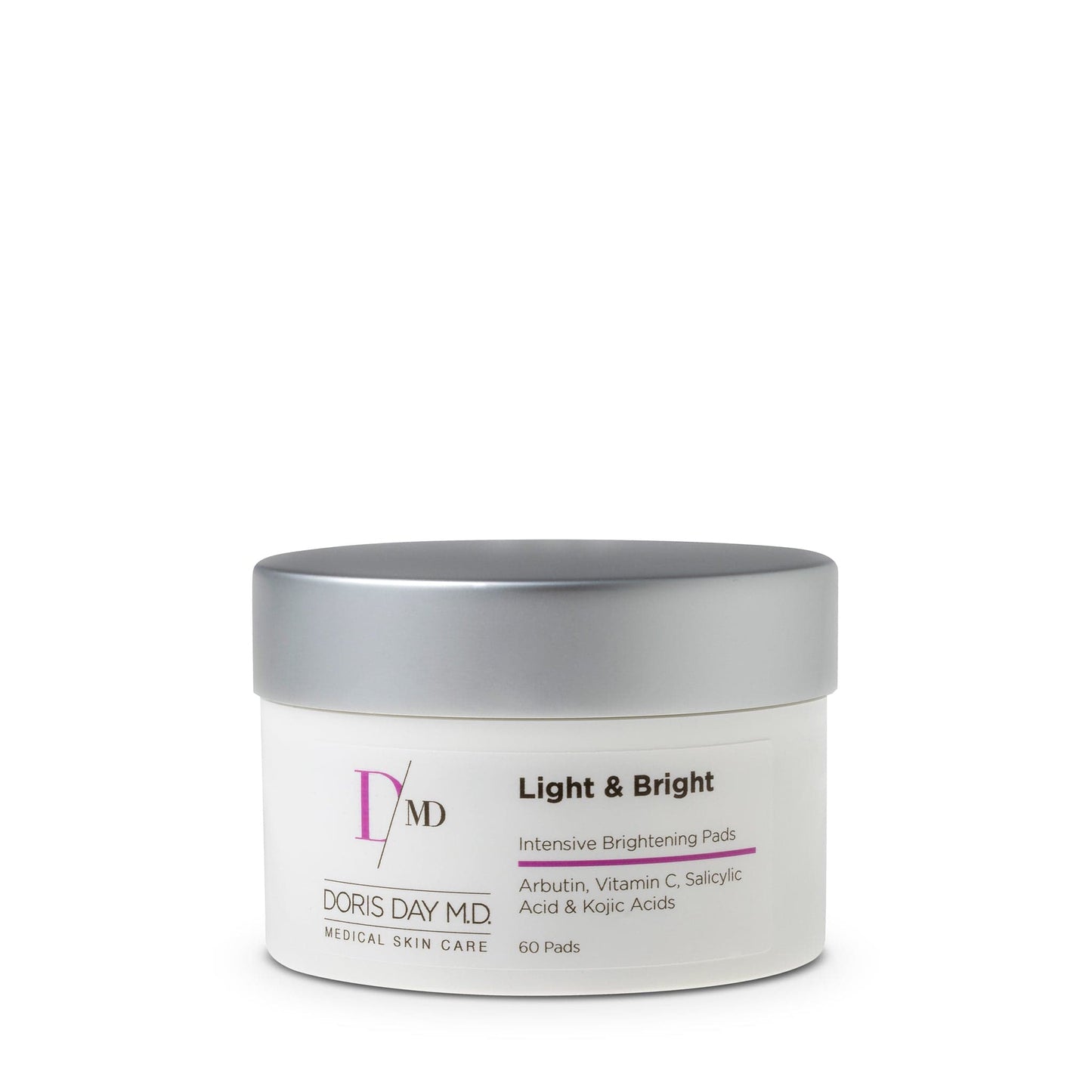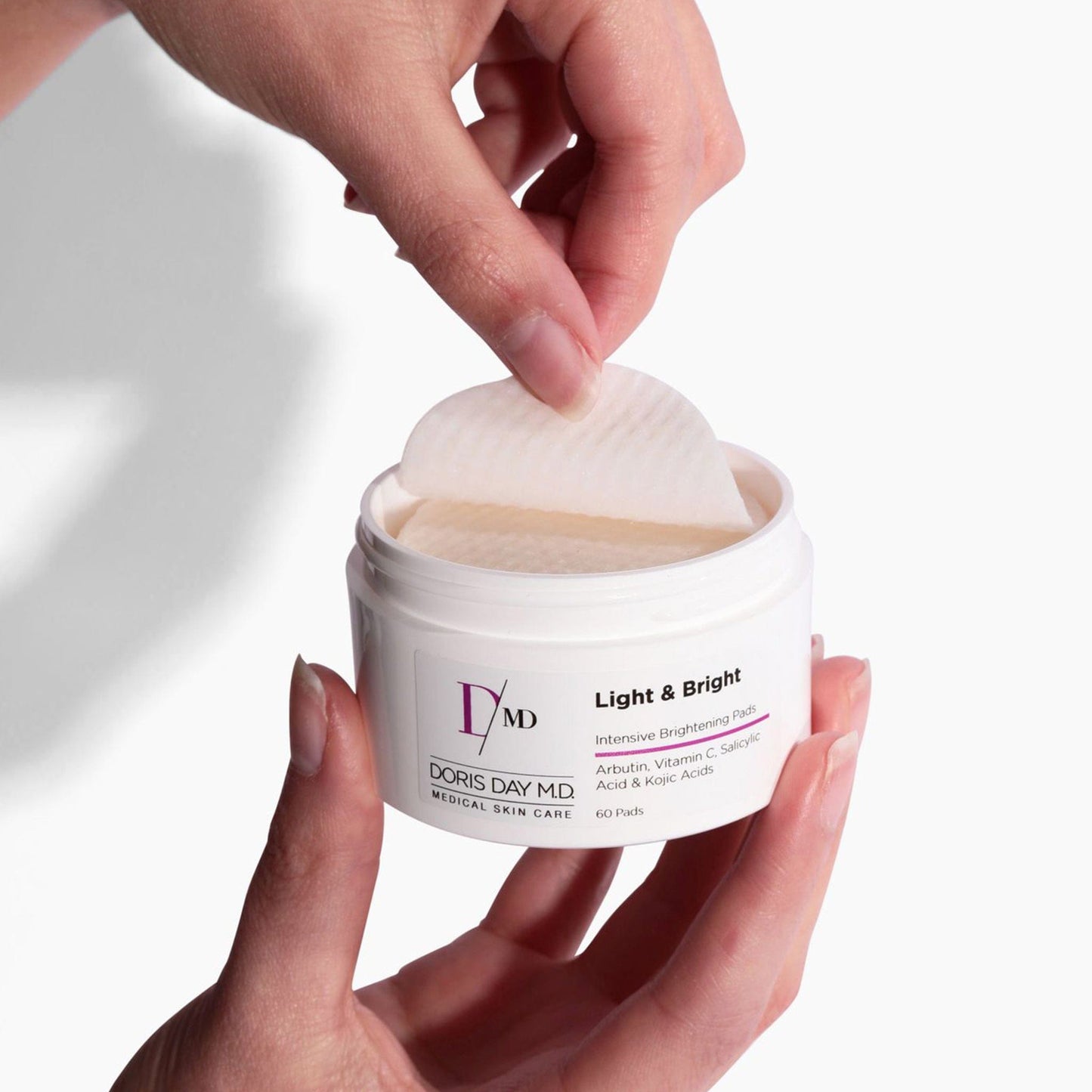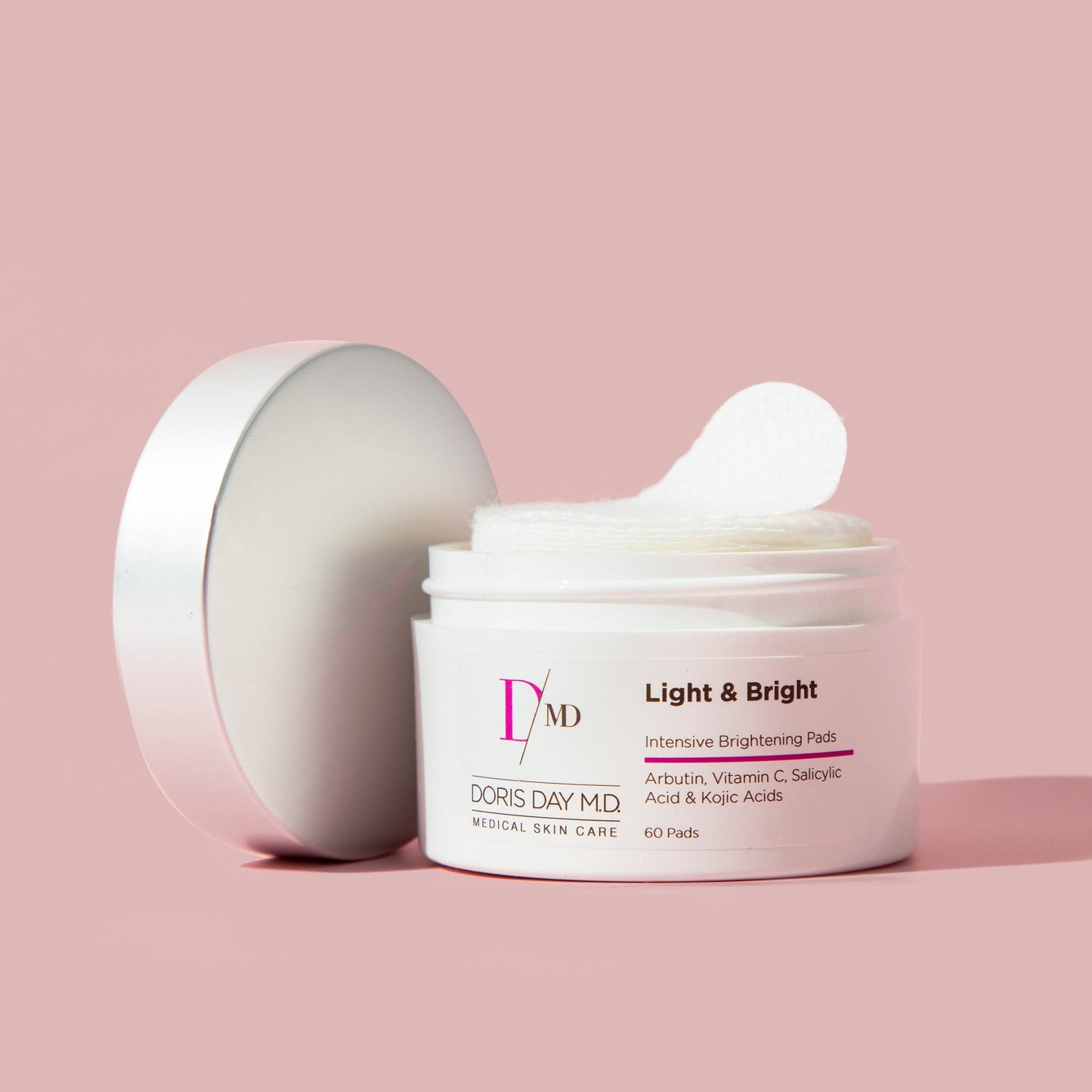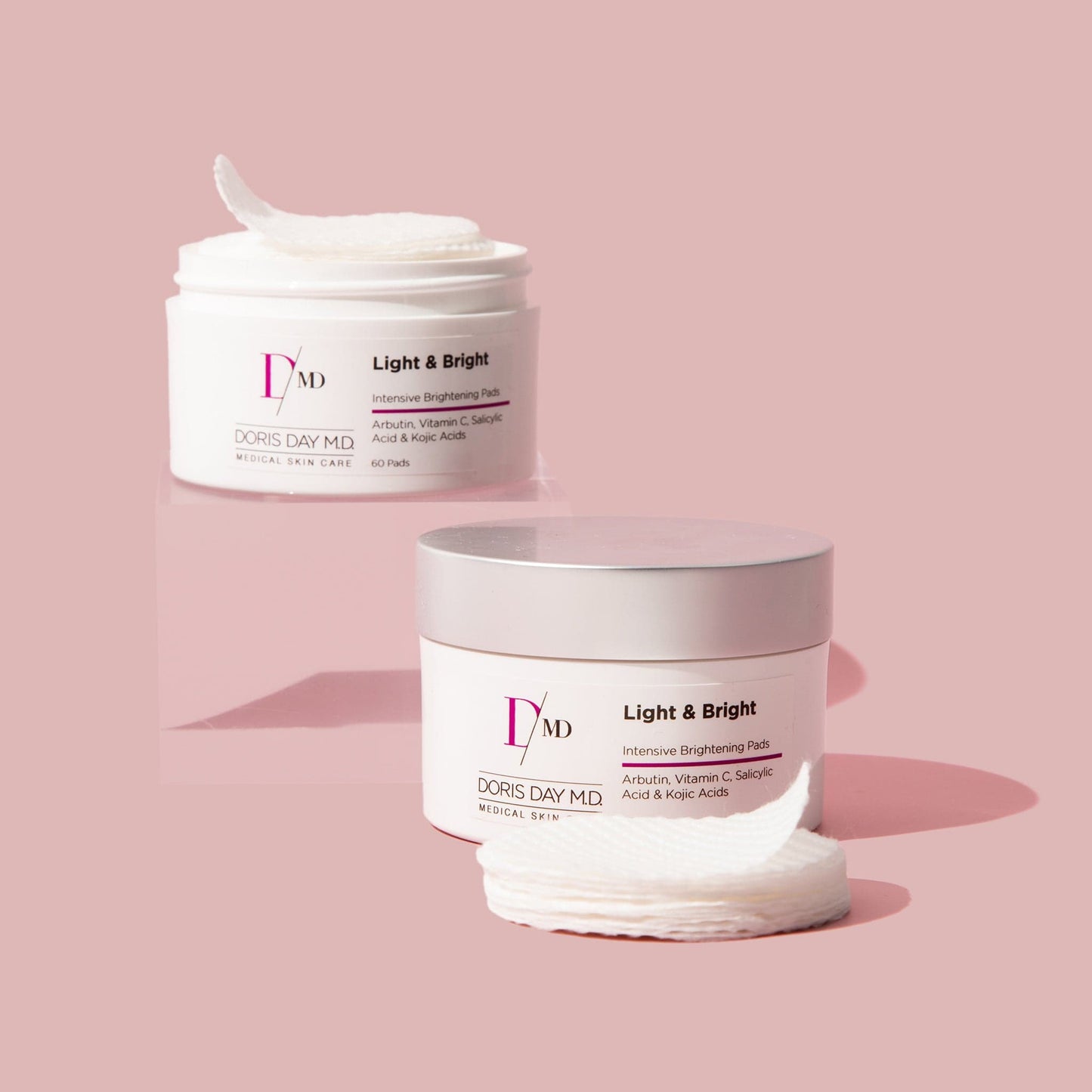 Behind the Science
Why Dr. Day Loves It
"These pads have my biggest cult following. They're super powerful, but not irritating, and work beautifully to brighten your dark spots to blend your skin tone with a unique set of ingredients."
Why it's Special
It's compounded freshly at time of purchase to ensure optimal potency.
What to Expect
Looking to improve your skin complexion? These brightening pads are great at tackling hyperpigmentation, dullness, and texture. Brighten and exfoliate with this daily treatment pad that minimizes dark spots as it helps boost skin hydration and reduce fine lines.
How to Use
Pour crystals into liquid bottle and shake until dissolved. Then pour over pads. Gently wipe the pad over the face and neck, avoiding the eyes. Apply 1-2 times daily, or as directed. Before first use, test for skin sensitivity as described in the package insert.
Ingredients
ARBUTIN - Steadily releases hydroquinone to prevent development of dark spots and hyperpigmentation.
KOJIC ACID - Brightens dark spots & overall skin dullness by inhibiting the enzyme tyrosinase.
SALICYLIC ACID - Acts as an exfoliant to deeply penetrate pores and dissolve skin debris, revealing clearer, smoother skin.
VITAMIN C - Prevents the formation of dark spots while stimulating collagen and elastin production.
Supporting Ingredients: Water, Ethoxydiglycol, 10% SD Alcohol 40-B, Ascorbic acid, Pentylene glycol, Arbutin, Kojic acid, Salicylic acid, Butylene glycol, Camellia oleifera extract, L-Ergothioneine, Evodia rutaecarpa fruit extract, Glycerin, Rumex crispus extract, PEG-8 Dimethicone, Laureth-4, Trolamine, Sodium metebisulfite, Edetate disodium and Beta glucosidase.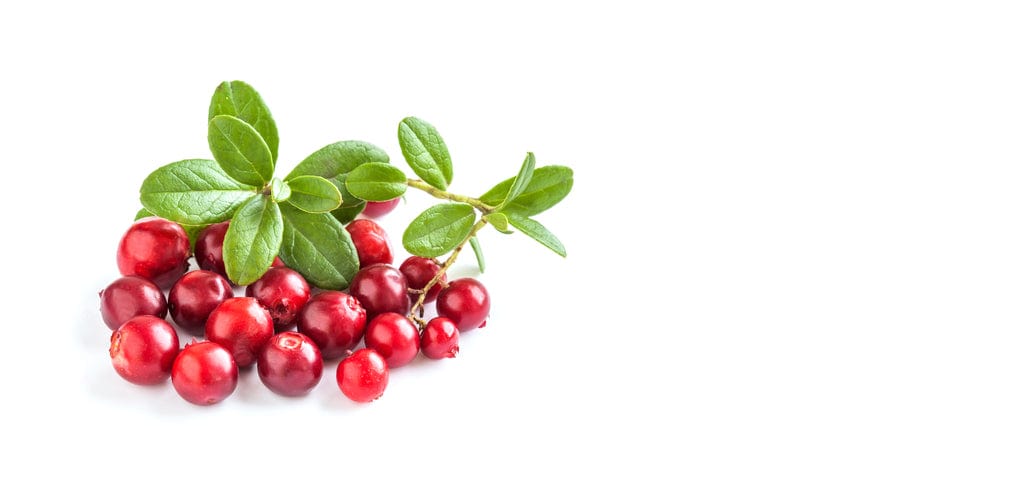 Questions? We've Got Answers.
How long should the pads last?
They will last one to two months depending on how often you use them.
Is this okay to use in the summer?
Yes, I love it in the summer to help keep the pores clear and your skin smooth and radiant
What products should be avoided while using the Light & Bright pads?
Light and bright pads are best used right after cleansing the face and can be followed with your usual serum or creams.
Difference between this product and the Triple Brightening Complex?
While both contain non-hydroquinone skin lightening agents, the Triple Brightening Complex is a cream which also contains a gentle retinoid, which the Light and Bright pads, do not.
Light and Bright Pads!
Dr. Day's Light and Bright Pads have to be my favorite skincare product! After only 5 days of using them, my skin already looks brighter and clearer. I would recommend this product to all skin types, as it is not drying on my skin.
Excellent service
I see brightening in 30 days. Thank you Dr. Day & staff for being so polite and professional💐🌸🌺
Love light and bright pads
I already see a significant difference and will be reordering!
Get Personalized Advice from Dr. Doris Day
We offer a full array of medical and non-surgical aesthetic treatments for face and body.
Contact Us