DORIS DAY MD SKINCARE
Silky Foam Cleansing Mousse
Regular price
Sale price
$55
Unit price
per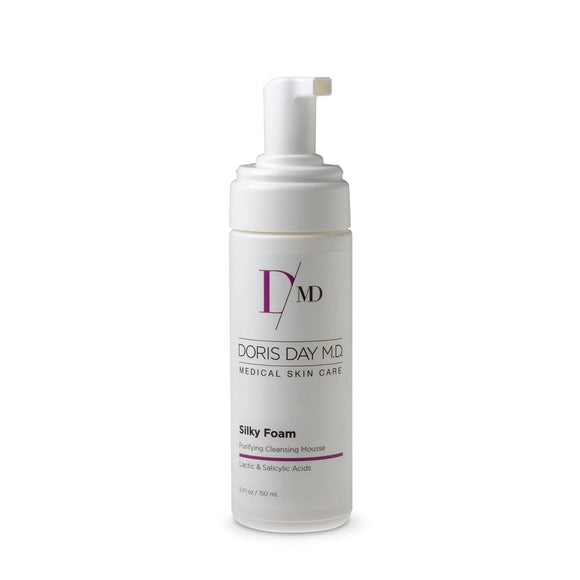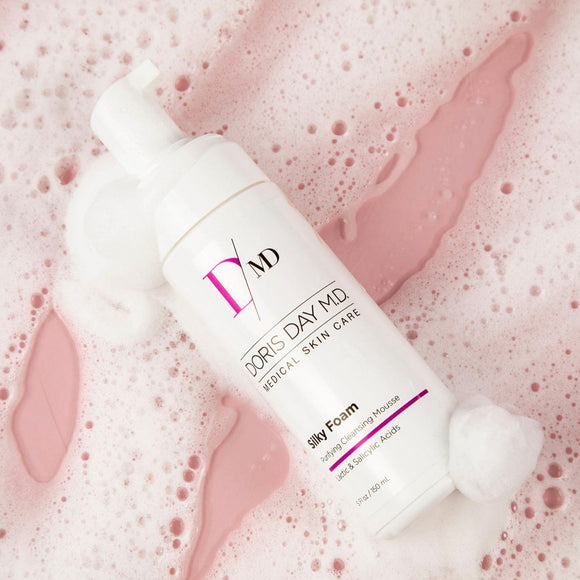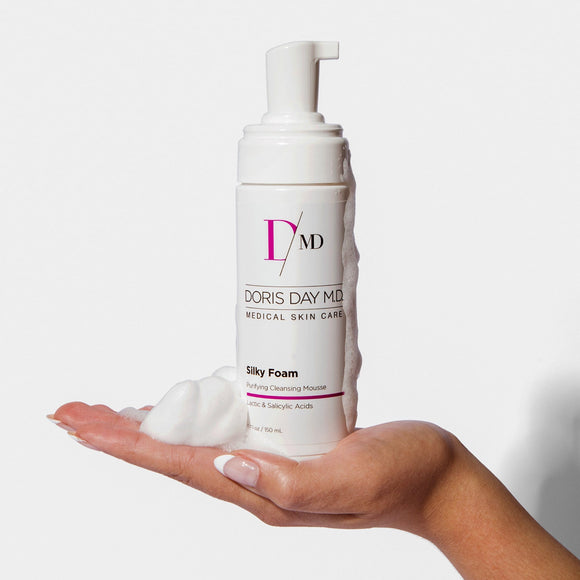 DORIS DAY MD SKINCARE
Silky Foam Cleansing Mousse
Regular price
Sale price
$55
Unit price
per
Daily Foam Cleanser
Silky foam cleanser produces a soft and fine foam for a deep cleansing through a combination of lactic and salicylic acids, targeting excess lipids without over stripping or upsetting the skin's natural moisture barrier.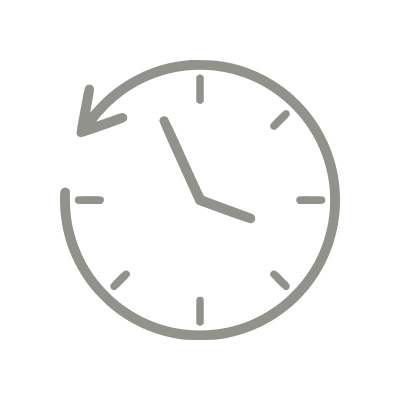 Anti-aging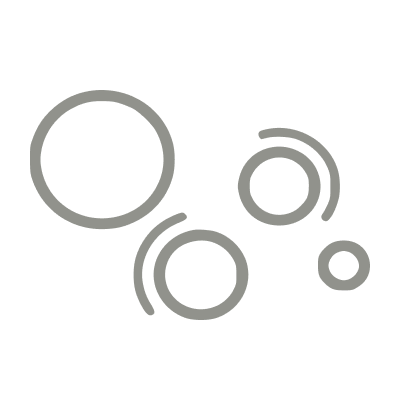 Pore-refining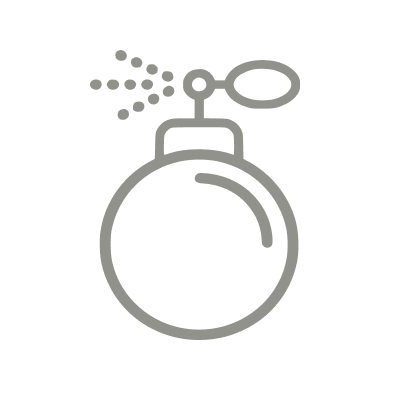 Fragrance Free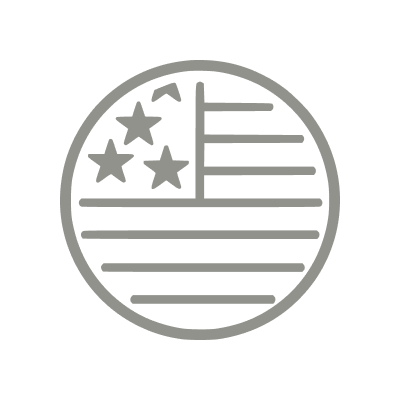 Made in the USA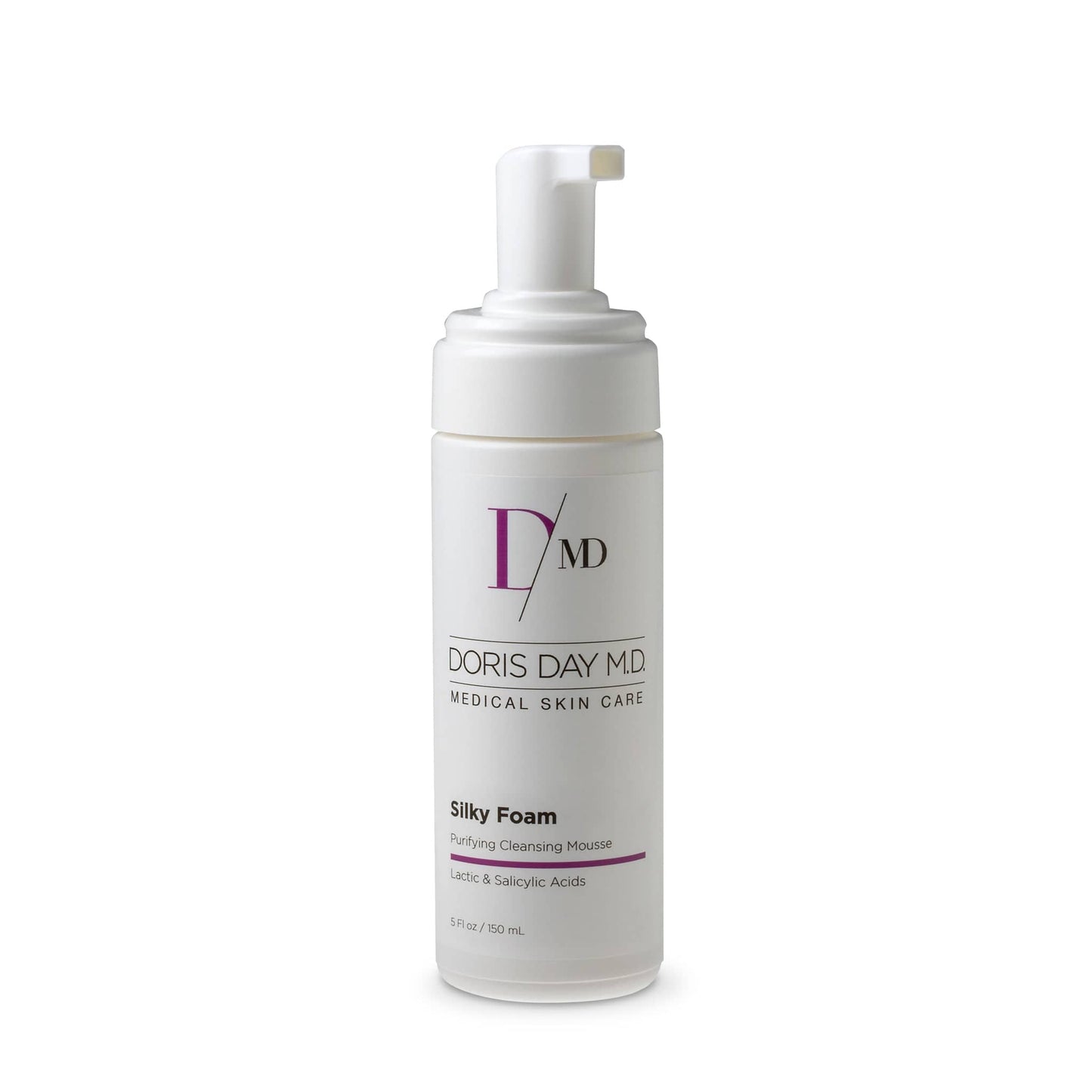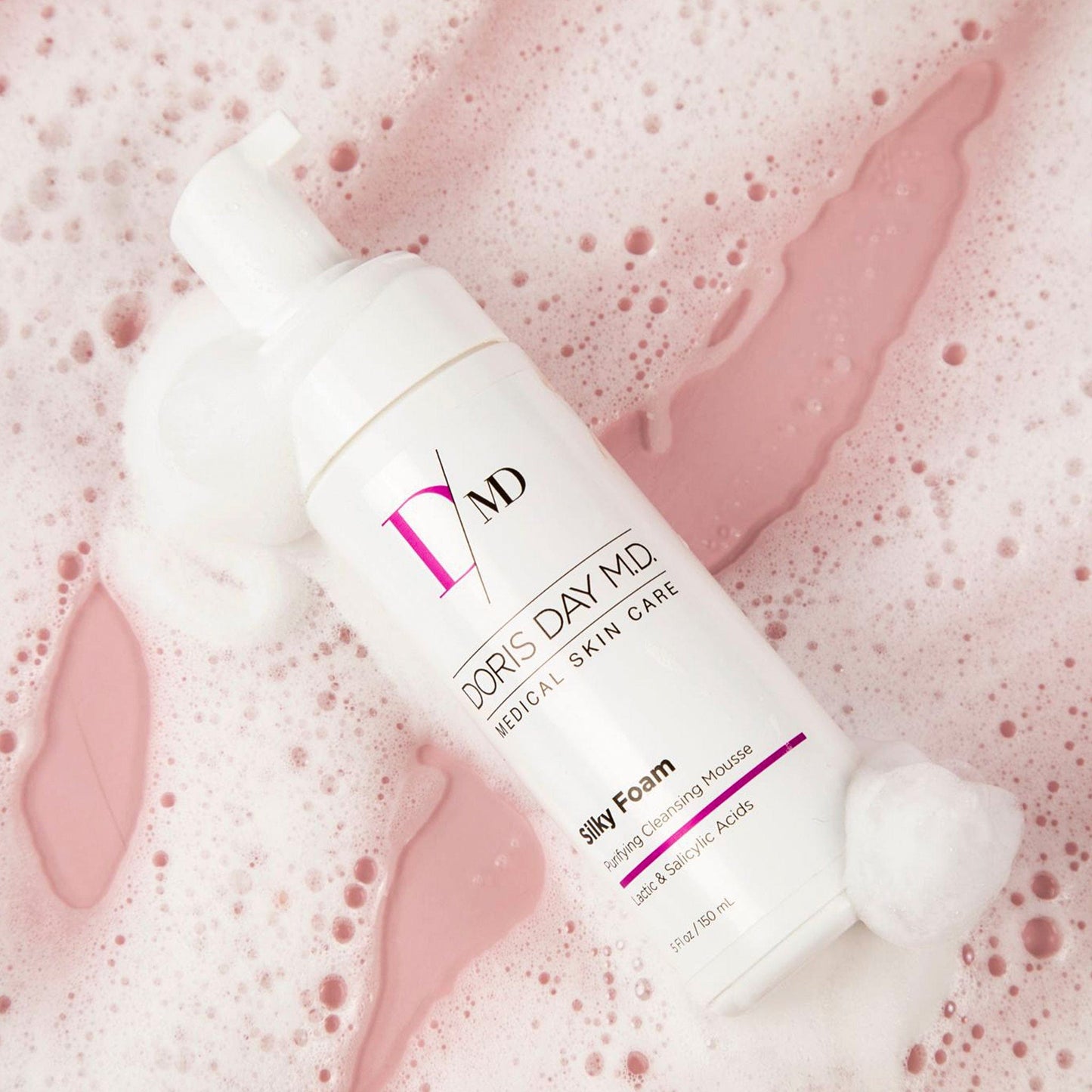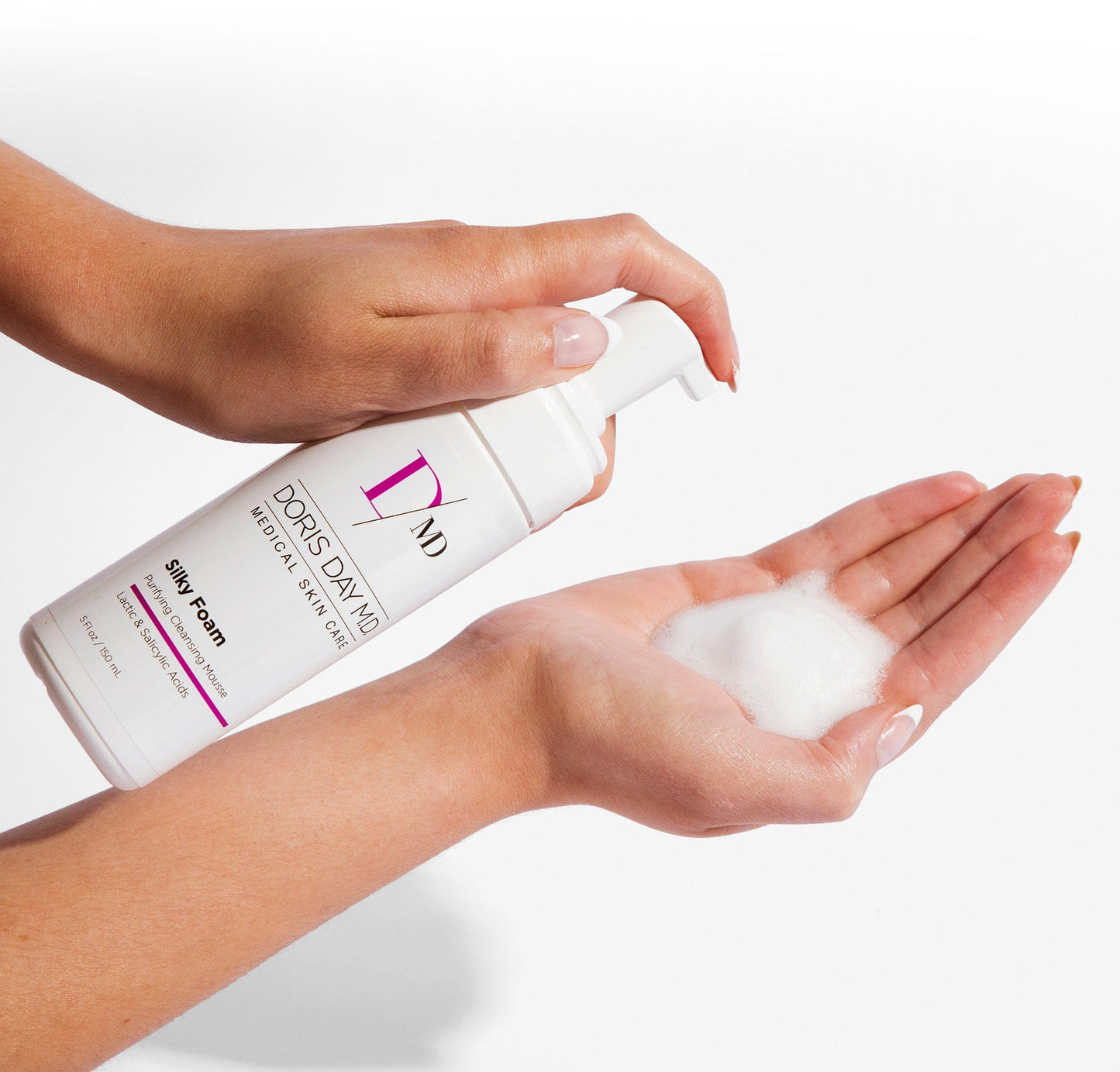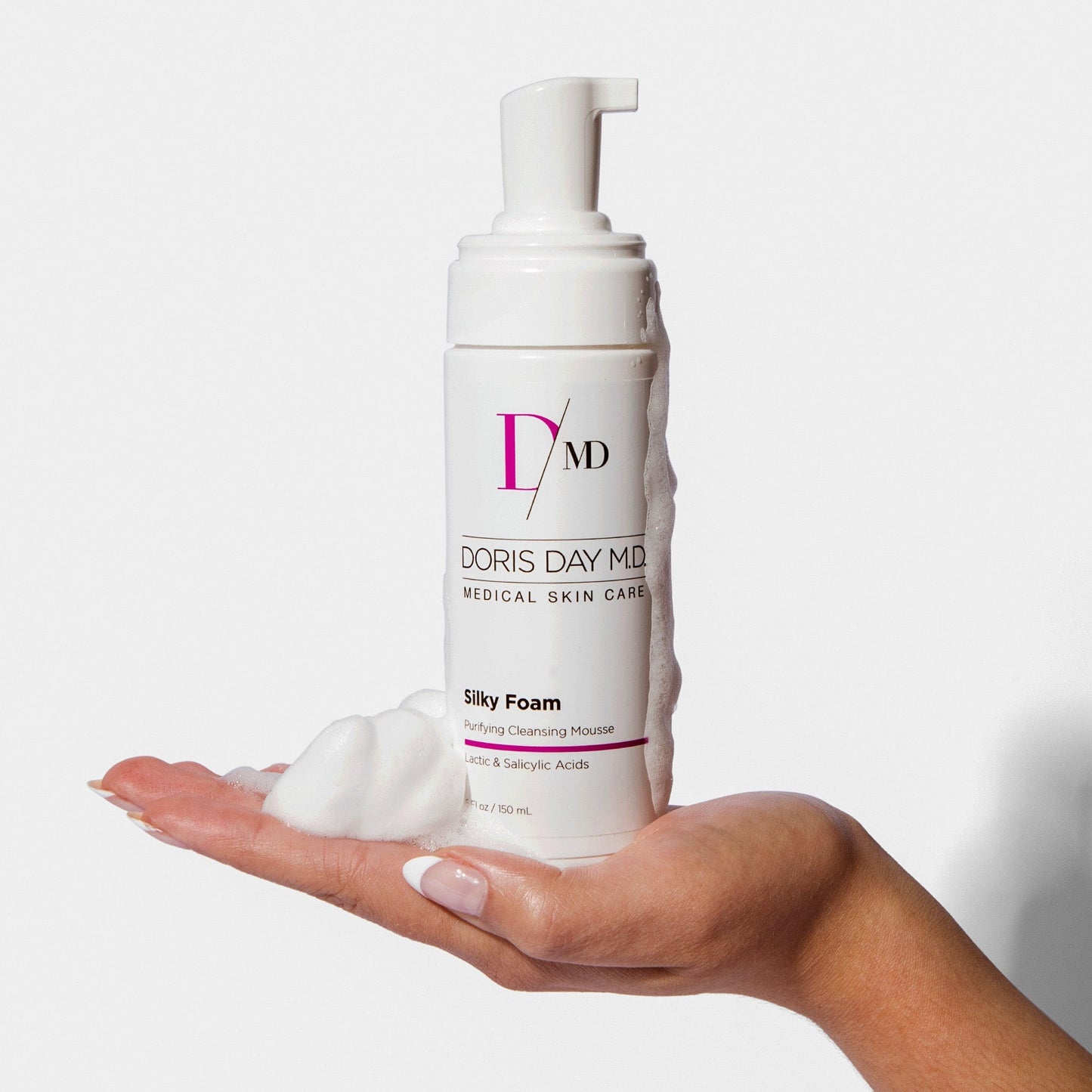 Behind the Science
Why Dr. Day Loves It
"So many make up removers overstrip your skin, so I formulated this to be gentle yet effective in removing makeup and impurities from your skin. It's also a great primer for your nightly serums and moisturizer."
Why it's Special
This cleanser provides gentle, deep cleansing, removing excess lipids, without over drying and upsetting the skin's natural moisture balance.
What to Expect
This cleanser removes excess oil without over drying. Helps remove excess lipids without over drying and contains Salicylic acid to enhance exfoliation. Great for those with normal to oily skin.
How to Use
Apply foam to face then rinse thoroughly. Pump into hand and smooth over your face using circling movements. Then rinse off thoroughly with plenty of lukewarm water.
Ingredients
EVODIOXTM - Mixture of Rutaecarpine and related alkaloids that helps sooth skin.
LACTIC ACID - Exfoliates skin, lightens dark spots, keeps skin moisturized to reduce the appearance of fine lines and wrinkles.
SALICYLIC ACID - Acts as an exfoliant to deeply penetrate pores and dissolve skin debris, revealing clearer, smoother skin.
Supporting Ingredients: Water, Decyl glucoside, Sodium cocosulfate, Disodium laureth sulfosuccinate, Glycereth-26, Disodium PEG-12 dimethicone sulfosuccinate, Lauryl methyl gluceth-10 hydroxypropyldimonium chloride, PEG-40 Hydrogenated castor oil, Lactic acid, Camellia oliefera (Green Tea) extract, Butylene glycol, Glycerin, Povidone, Triethanolamine, Salicylic acid, 1,2 Hexanediol, Caprylyl glycol, Fragrance, Allantoin, Potassium sorbate and Edetate disodium.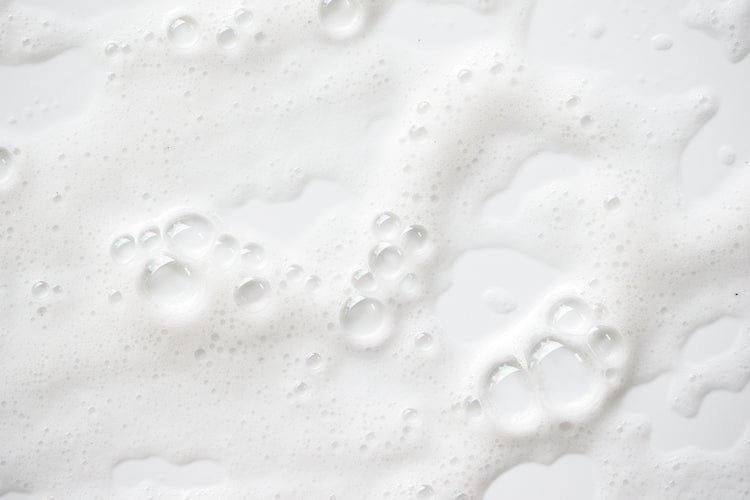 Questions? We've Got Answers.
Can this be used on someone with dry skin?
This is a favorite with our patients with dry or sensitive skin
Can this be used over the eyes and neck?
It is recommended to avoid getting in the eye area but can be used on the entire face and neck
Can I use this twice a day?
Yes. You can use this cleanser morning and night.
Is it OK to use it every day?
Yes! The Silky Foam Cleanser has lactic acid and salicylic acid, which help gently exfoliate without stripping the skin of its essential moisture. It can be safely used as part of your daily routine.
Will this take my makeup off?
We typically recommend using dedicated make-up remover products, especially to remove makeup in the eye area, before using with the Silky Foam Cleanser.
Excellent product! Gentle on my skin, but thoroughly cleanses.
Love the soft texture of this face wash and how it makes my skin look and feel!
Silky foam
Love the feel and texture of this product on my skin.
Love This Cleanser!
I love how the Silky Foam Cleanser feels on my skin, and how well it removes all my makeup without drying my skin!! The foam is fun to use, and is the best cleanser I have ever used
Get Personalized Advice from Dr. Doris Day
We offer a full array of medical and non-surgical aesthetic treatments for face and body.
Contact Us