DORIS DAY MD SKINCARE
Vitamin C Brightening Serum
Regular price
Sale price
$115
Unit price
per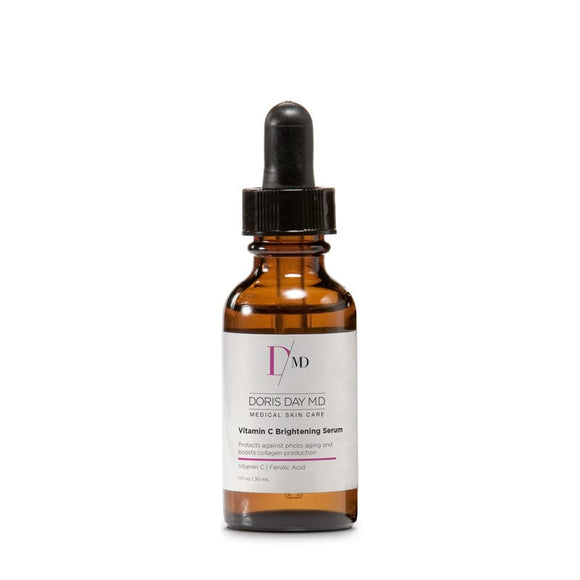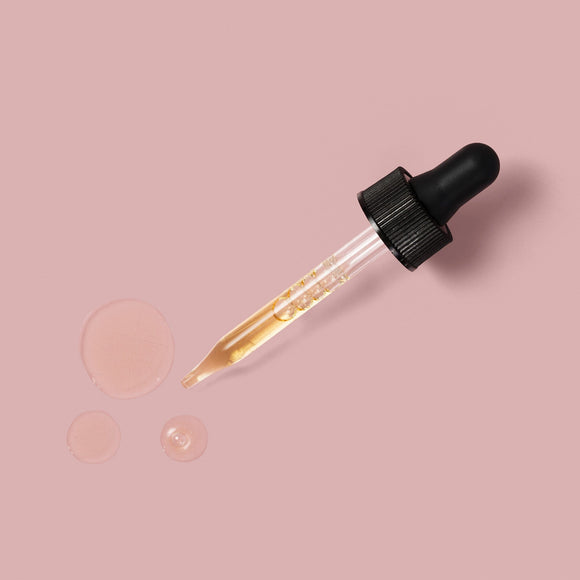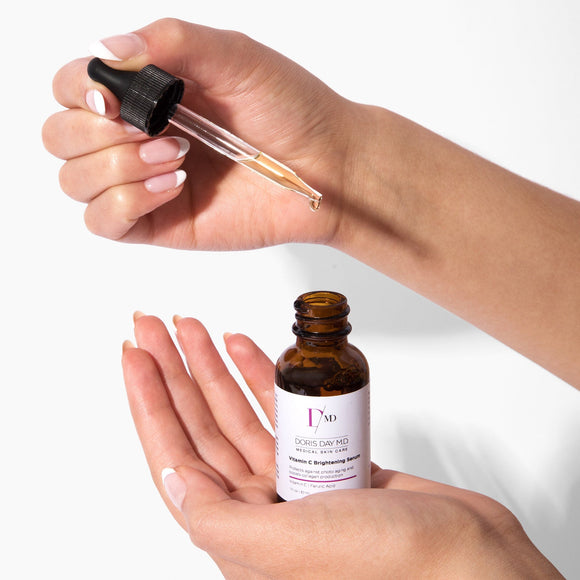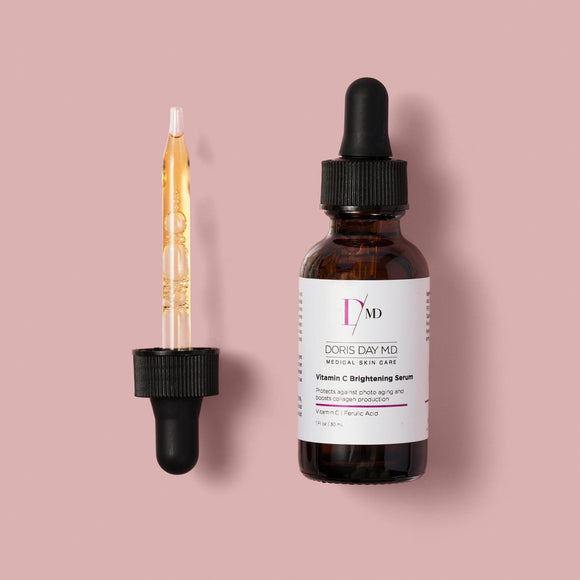 DORIS DAY MD SKINCARE
Vitamin C Brightening Serum
Regular price
Sale price
$115
Unit price
per
Protects Against Photoaging and Boosts Collagen Production
A multi-stabilized, and highly potent Vitamin and peptide based anti-aging serum that delivers unparalleled results to combat and reverse signs of aging through an increase in collagen production. This highly effective vitamin skin serum also provides antioxidant protection and improves the appearance of hyperpigmentation.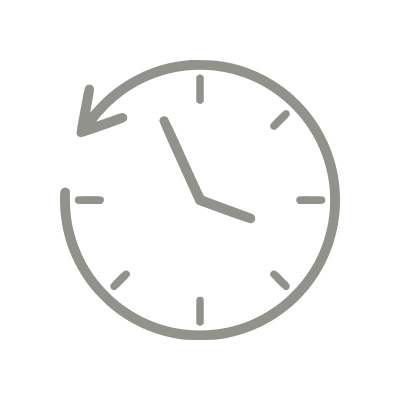 Anti-aging

Cruelty Free

Paraben Free

Sulfate Free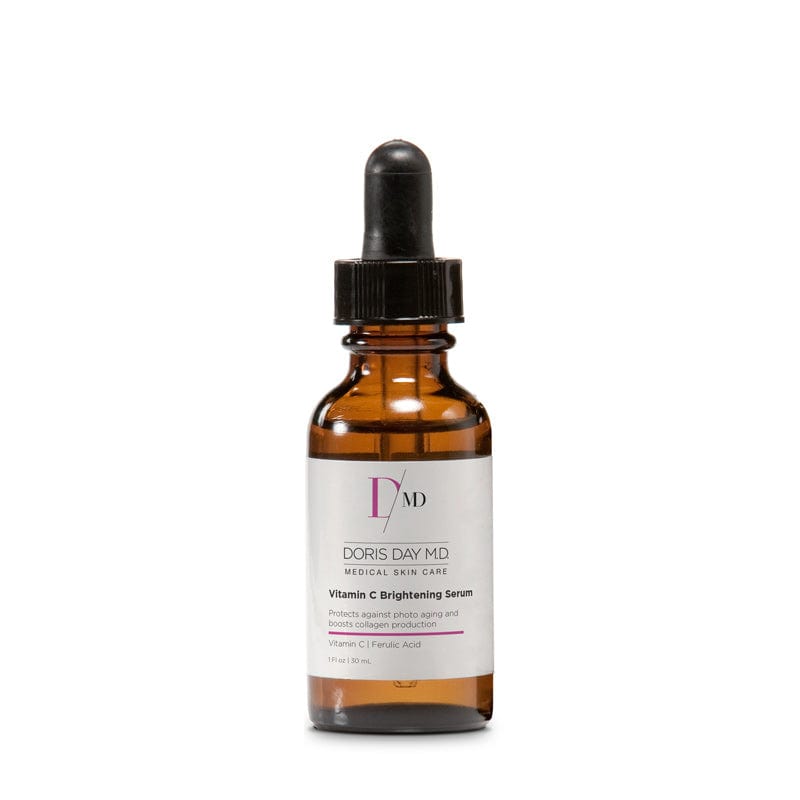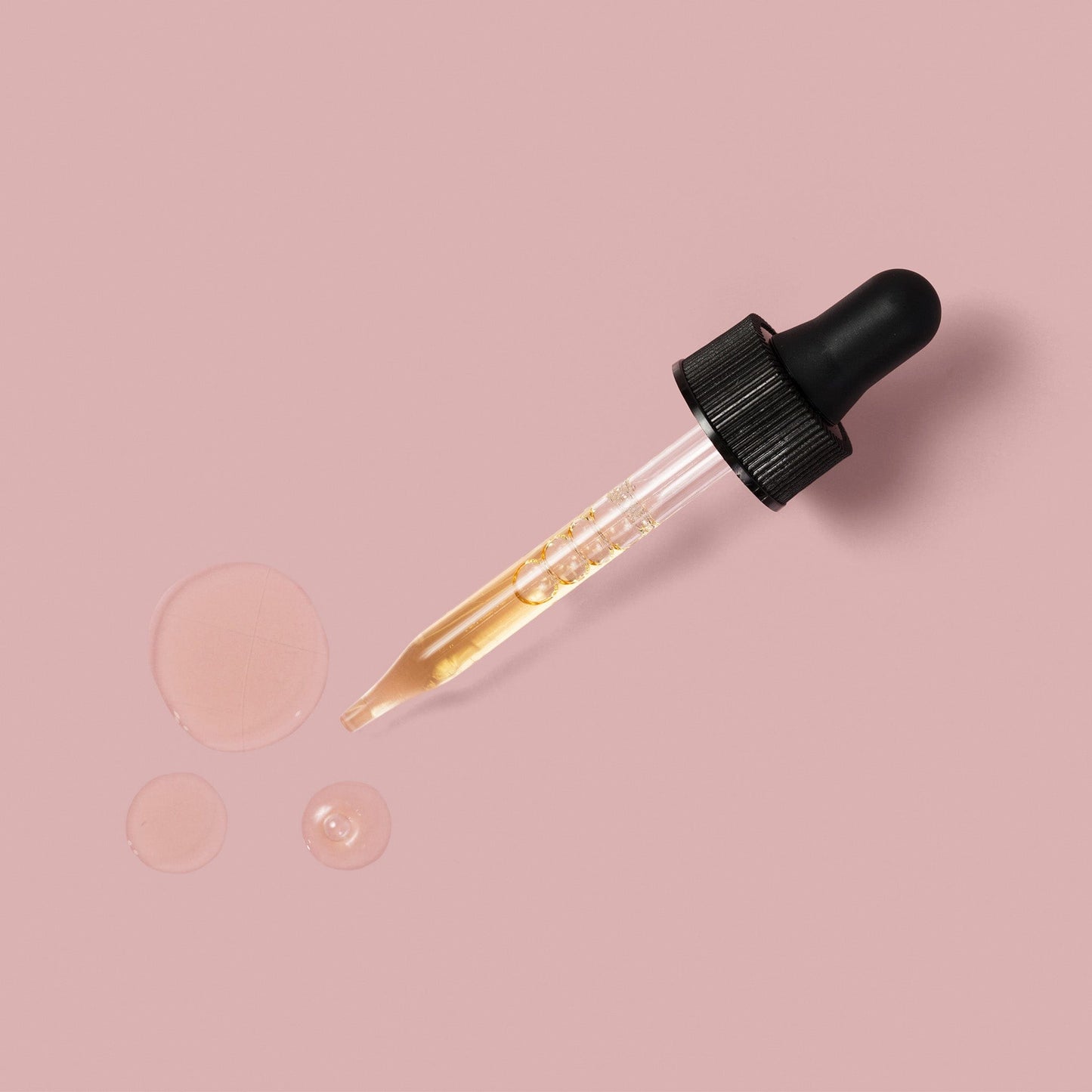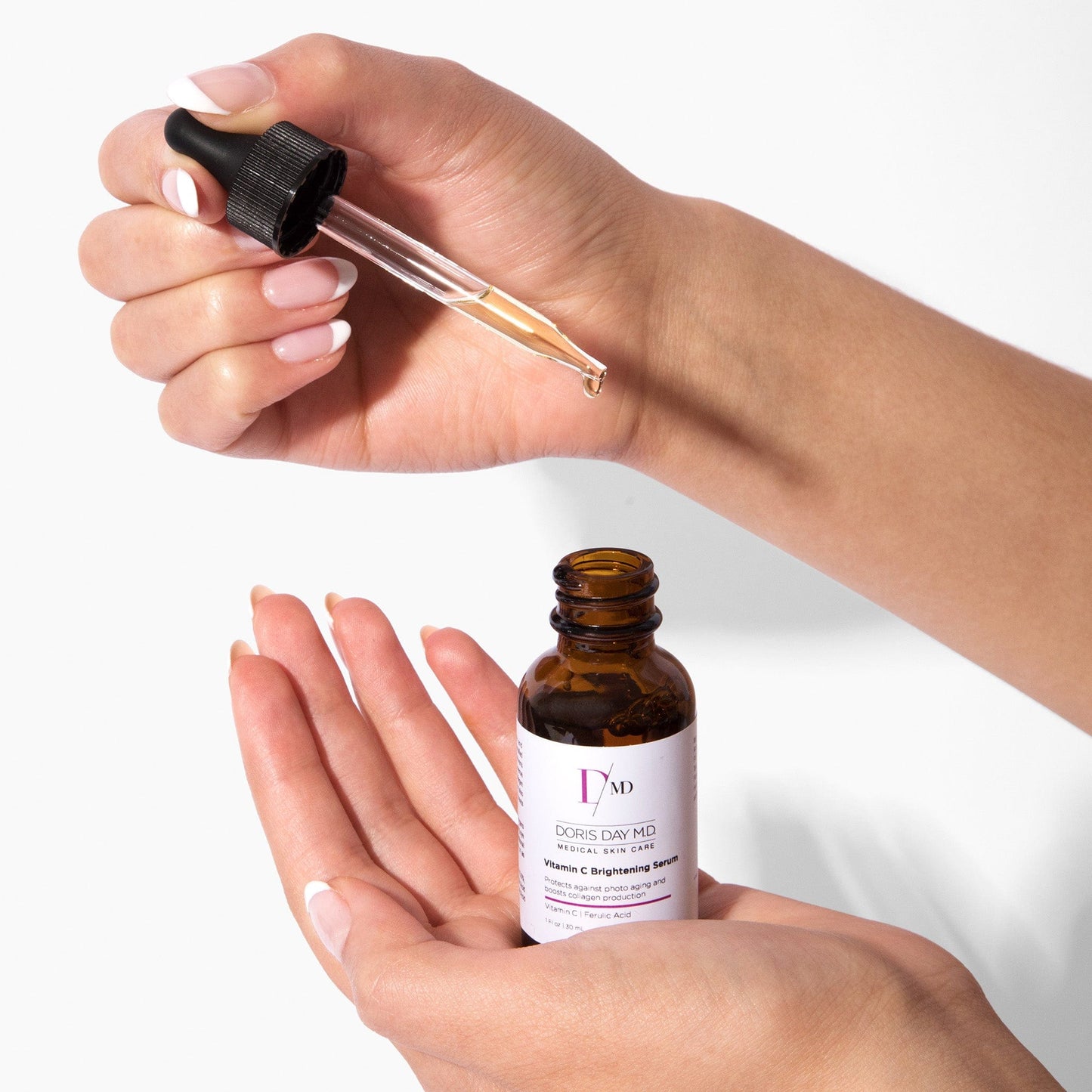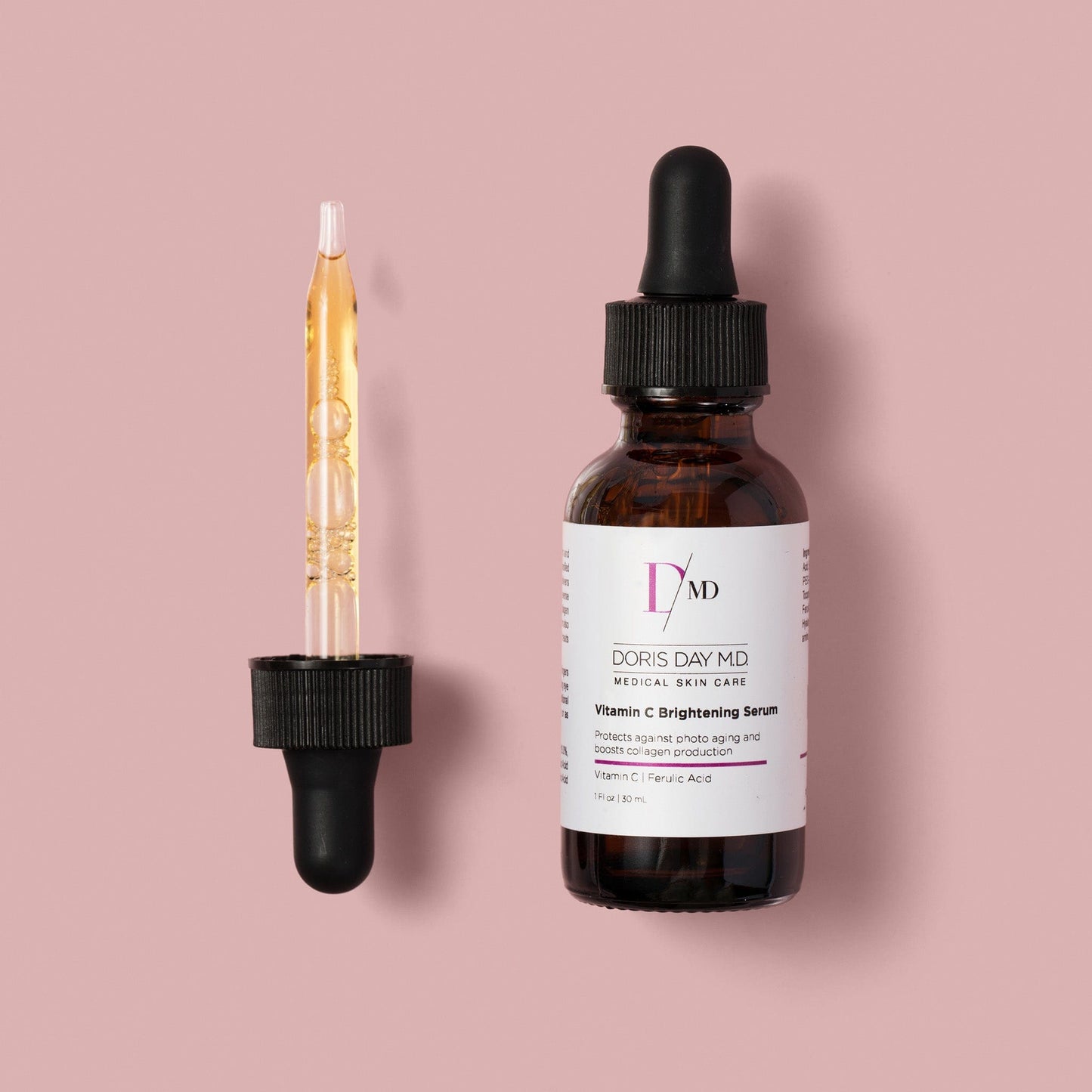 Behind the Science
Why Dr. Day Loves It
"This is great to apply first thing in the morning—it doesn't just help brighten but also helps prevents damage from UV rays."
Why it's Special
This clinically-proven formula of Vitamin C with Ferulic Acid yields an 8-fold increase in both collagen synthesis and free radical protection, working to repair existing skin damage and prevent aging. Vitamin C Brightening Serum also reduces tyrinosase activity by 73%, thereby decreasing melanin production to prevent hyperpigmentation.
What to Expect
Vitamin C serums can be used on all skin types for brightening complexion, decreasing suns spots, and evening out discoloration. This brightening skin serum can be used in the mornings as one of your first serums and it will help protect against photoaging as well as repair existing skin damage.
How to Use
Apply 4 to 5 drops onto fingers and smooth over face and neck, avoiding eye area. Allow to absorb before applying additional products. It is recommended to be used 1x day in the morning.
Ingredients
VITAMIN C - Prevents the formation of dark spots while stimulating collagen and elastin production.
OCTAPEPTIDE - Helps repair wrinkles and scars and promotes the generation of elastin and collagen for smoother and younger-looking skin.
L-ASCORBIC ACID 15% - Most potent form of Vitamin C, which prevents the formation of dark spots while stimulating collagen and elastin production.
VITAMIN E 1% - Antioxidant protection against pollution and free radicals
FERULIC ACID 0.5% - Powerful antioxidant that brightens dark spots and overall skin dullness by neutralizing free-radical damage from pollution, UV light, and infrared radiation.
Supporting Ingredients: Water, Ascorbic Acid, Ethoxydiglycol, PPG-26-Buteth-26, PEG-40 Hydroge- nated Castor Oil, Tocopherol, Glycerin, Acetyl Octapeptide-3, Ferulic Acid, Panthenol, Sodium Hyaluronate, Phenoxyethanol, Triethanolamine, Sodium Metabisulfite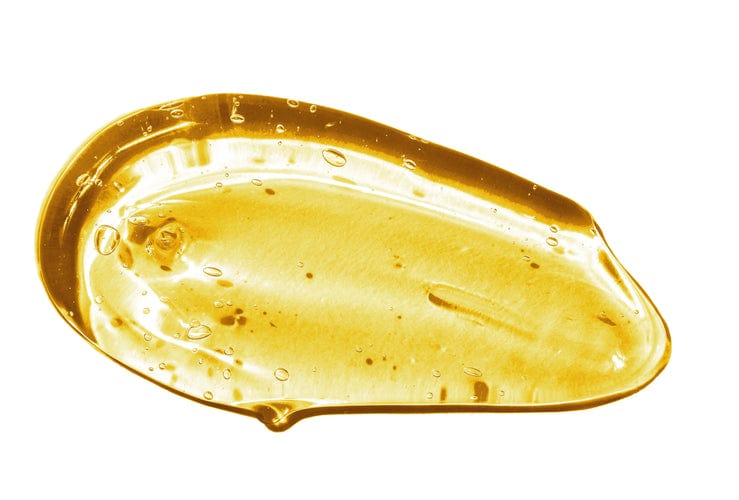 Questions? We've Got Answers.
Can this be used daily?
We recommend using in the morning underneath your sunscreen for extra antioxidant benefits against UV rays and pollution.
Can this be used with retinol?
We recommend using this in the morning and retinol in the evening. If you use along with retinol, wait about 5 minutes between applications.
Does this product have a scent or fragrance?
The mix of ingredients does give our Vitamin C Serum a subtle scent because it does not have added fragrance.
What step in my regimen should I use this serum?
After cleansing and before moisturizing.
Vitamin C Serum
Easy to apply, have noticed my skin is more brighter and healthier looking.
The best!!!!
I started using this serum and I immediately saw a difference. I used to use the skinceuticals one and this one is by far better!!!
Vitamin C Brightening Serum by Doris Day MD Skincare
Vitamin C Brightening Serum by Doris Day MD Skincare
Get Personalized Advice from Dr. Doris Day
We offer a full array of medical and non-surgical aesthetic treatments for face and body.
Contact Us